Smash File Transfer App Free: If you are looking for a convenient way to transfer large files from your phone to any device, the Smash app is perfect for you. This user-friendly app allows you to easily transfer any kind of file without the need for signup.
To get started, simply download the app and begin using it immediately. Once you've identified the files you want to transfer, just tap on them to upload them to the Smash server. After the files are uploaded, you'll be provided with a share button that generates a link to the uploaded file.
You can share this link through various platforms like WhatsApp, email, or your preferred social networks. The receiver can then download the file on any device, including laptops and desktops. The best part is that there is no limit to the file size and no compression of files. Your files will remain accessible for up to seven days.
Also View: Xander Apk File Sharing Application
What is Smash?
Smash is a user-friendly app developed by a French company Fromsmash that provides a convenient and secure way to transfer large files from your phone or Mac to any device. Unlike other file-sharing apps, Smash does not require registration, making it a hassle-free solution.
With Smash, you can easily upload any type of file by simply tapping on it. The app then uploads the files to the Smash server, where they are securely stored. After the upload is complete, Smash generates a shareable link for the file, which you can send to anyone through platforms like WhatsApp, email, or your preferred social networks.
One of the great features of Smash is that it has no file size limits, meaning you can transfer even the largest of files without any issues. Additionally, Smash does not compress files, ensuring that the quality and integrity of your files are maintained throughout the transfer process.
Your files will remain accessible for up to seven days, giving your recipients plenty of time to download them on their preferred devices, including laptops and desktops. This provides flexibility and convenience for both you and the receiver.
Smash Pro
Smash Pro is an upgraded version of the Smash app that offers additional features and benefits for users. By subscribing to Smash Pro, you can enjoy the following advantages:
Extended Storage: Smash Pro provides you with more storage space to upload and store your files. This means you can transfer and keep a larger number of files without worrying about storage limitations.
Unlimited Downloads: With Smash Pro, there are no restrictions on the number of times your recipients can download the files you share with them. This is especially useful when sharing important documents or multimedia files with a large audience.
Enhanced Security: Smash Pro offers advanced security features to protect your files during the transfer process. Your files will be encrypted and stored securely on the Smash server, giving you peace of mind knowing that your sensitive information is safe.
Custom Branding: Personalize your file-sharing experience with Smash Pro by adding your own branding. You can customize the download page with your company logo, colors, and even a personalized message for your recipients.
Priority Support: As a Smash Pro subscriber, you will receive priority support from the Smash team. If you encounter any issues or have questions about the app, their dedicated support staff will be ready to assist you.
To unlock these benefits, simply upgrade to Smash Pro by subscribing to their premium plan. Enjoy the convenience, security, and additional features that Smash Pro has to offer!
Smash File Transfer App (Apk)
Smash File Transfer app for Android – Click Here
Smash File Transfer App for iOS – Click Here
Smash File Transfer For PC – Click Here
Smash File transfer App features
Here are the features of the Smash app:
No Size Limits: As a Smash Pro customer, you can send all your large files with no size limits directly from your iPhone or iPad.
No Registration Required: Download the Smash app now and start sending the files of your choice without the hassle of registration.
Original File Quality: Your files will always maintain their original quality, ensuring that every transfer is of the highest standard.
Always Accessible: Whether you're at the office, on a building site, on holiday with friends, in an emergency, or simply in peace, Smash is there for you in any situation.
Designed for iPhone and iPad: We've created the Smash app specifically for iPhone and iPad users, ensuring a seamless and optimized experience.
Customizable Account Settings: Personalize your Smash account settings to fit your preferences. Choose the duration of availability for your transfers, ranging from a day up to a year, and make your transfers truly reflect your personal style.
Easy, Secure, and Free: Send photos, videos, music, and documents easily, securely, and free of charge from your mobile device or tablet.
Download and Install with Ease: Simply download and install the Smash app on your iPhone or iPad, and you're ready to start sharing files.
Hassle-Free Usage: With no registration required, you can start using Smash immediately to send and receive files effortlessly.
Branding Customization: Add a personal touch to your file transfers with your own background and logo, which will be displayed during each upload and download. Make every interaction with Smash reflect your unique brand identity.
Smash File Transfer For PC
The Smash file transfer app is available for PC and transfer file to any other device making a smooth sharing process. This application gives freedom of no file size limit and transfers any type of format.
Smash File Transfer Online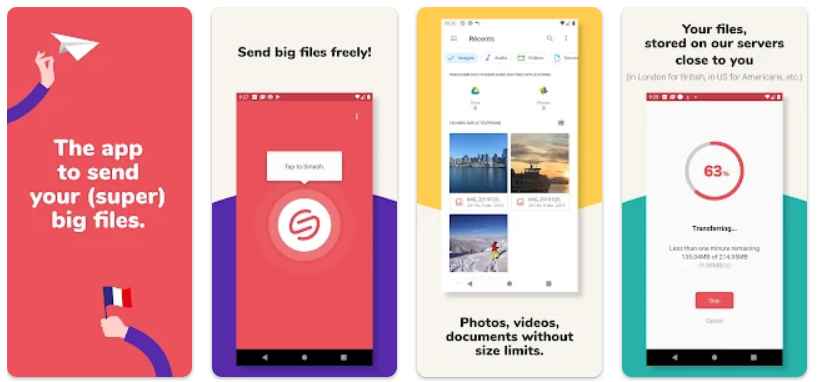 Smash is transferred through an online process secure to an encrypted location
Smash File Transfer Online is a secure and convenient way to transfer files from your device to any other device. By using the Smash online platform, you can easily upload and share files without the need for any additional software or downloads.
To get started with Smash File Transfer Online, simply visit the Smash website and follow these steps:
Click on the "Upload" button or drag and drop your files directly onto the webpage.
Your files will be securely uploaded to the Smash server, where they will be stored.
Once the upload is complete, Smash will generate a shareable link for each file.
You can then share these links with your recipients through various platforms such as email, messaging apps, or social media.
The recipients can simply click on the link to access and download the file on their own devices.
Smash File Transfer Online ensures the security of your files by encrypting them both during transit and while at rest on the Smash servers. This means that your files are protected from unauthorized access throughout the entire transfer process.
Whether you need to send large documents, photos, videos, or any other type of file, Smash File Transfer Online provides a safe and reliable solution for your file-sharing needs. Start using Smash File Transfer Online today and experience the convenience of seamless and secure file transfers.
Is Smash file transfer safe?
Yes, Smash file transfer is safe and secure. The files stored on Smash are encrypted both in transit and at rest using the AES standard with 256-bit encryption. During the transfer process between the Smash application and the servers, the SSL/TLS protocol is used to further protect the data. This ensures that your files are kept secure and private throughout the entire transfer process.
View Also: Xender Apk