Change Xender user Avatar icon: For Convenience, Xender allows you to change the Xender user Avatar icon. One of the key aspects of personalizing the app is by changing the user avatar icon. In this article, we will guide you through the process of changing your Xender user avatar icon, enabling you to add a personal touch to your file-sharing experience.
Steps to change the Xender user avatar icon
For changing the Xender app user avatar icon needs to follow the simple steps here.
1 . Open the Xender app on your device.
2. Locate the "Avatar icon" in the top-left corner of the screen. This icon is set as the default by Xender.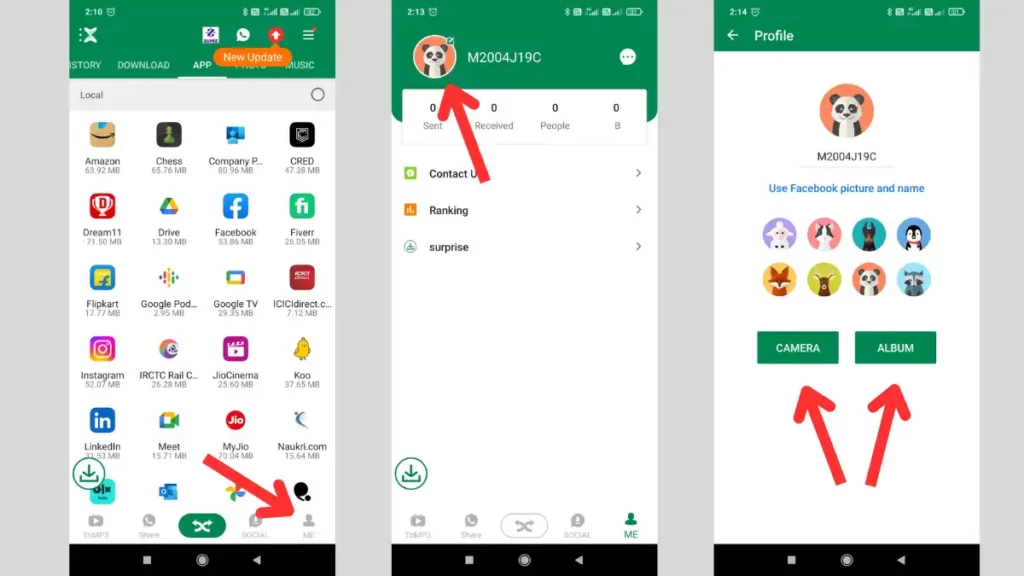 3. Tap on your "Me", which is displayed right side bottom corner.
4. A menu will appear with various options. Look for the option to change your avatar icon.
5. In the menu, you will see a list of pre-made cartoon characters. Additionally, you have the option to take a photo using the camera or select a custom photo from your Gallery.
6. Choose whether you want to take a photo or select one from your Gallery.
7. If you choose "camera", the camera will open. Capture a photo of yourself or anything you prefer.
8. If you choose "Album" from the Gallery, you will be able to browse your device's photo gallery and choose a picture.
9. After selecting a photo, you may be prompted to crop the selected image. Adjust the cropping as desired.
10. Once you are satisfied with the photo and cropping, tap on the "Save button" to set that photo as your new avatar icon.
11. Congratulations! You have successfully changed your Xender avatar icon to the selected photo.
Conclusion
Changing the Xender user Avatar icon is a very simple step to follow, by customizing your Xender user avatar icon, you enable effortless device connectivity and get fast the pairing process. When you set a personalized photo as your avatar icon, other devices can easily recognize and connect to your device without the need to inquire about its name. As a result, the pairing process becomes significantly faster and more Convenient.